Good news/bad news about trail today: more damage done by hoof, paw and shoe than by bicycle tires. So...seems cyclists doing OK at staying off trails when muddy, but not so much the walkers, runners, and dogs. Who we gotta talk to about "freeze/thaw cycle" to get the deer to act right...?
Now, the few ruts and other user impressions aside, the dirt there had a real interesting feel to it. I've ridden frozen trail before, 15 degrees at Swope last week, but Stocksdale had/has this weird sort of...stalagmite mud thing kinda action going on in a lotta spots. Like, the dirt swelled/spiked upwards as it froze...? The end result, though, is rather challenging! I can best explain it as trying to corner with flat tires and/or trying to ride across a giant memory foam mattress. It was wild, and terribly tiring in spots - but I wasn't rutting the trail, just...flattening 1,000's of tiny little, tightly grouped...mud needles...? If you wanna get a real quick/severe taste of it, ride the end of the technical trail right before it re-joins regular trail, or, ride the 100 feet after the log skinny (both references based on CCW direction). Purely to brag, though, I did ride/clean the snow/ice-covered skinny all four laps
Now...how the day actually ended was it's own kinda unique phenomenon: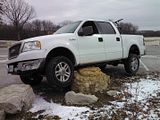 The rest of the story: got in 4 cold laps, 20 plus miles of frozen singletrack, loaded truck and put in gear, foot on brake pedal, trying to check phone for missed calls/messages. Got distracted by fact fingertips were too cold to work smart phone to realize froze foot wasn't holding brake pedal...until crunch sound of bumper hitting large rock. Of course, reaction was to stomp brake with said froze foot...which was barely on right edge of brake pedal and slipped over to stomp gas pedal, launching the whole show up & over the large rock and come to rest on frame once both left wheels in the air. Slightly over an hour of 18 degree jacking, rock piling, CAREFUL 4WD-Low reversing, then moving rocks to make ramp, me and my wounded pride headed home. Luckily, only ego and front bumper were damaged.
So, morals to this/these stories?
1) Trail is totally ride-able frozen, but it is
damn
challenging. I rode 8-10 minute slower laps than usual, but took at least as much physical effort to do so.
2) smart phones should not be attempted with frozen fingers
3) driving, er, attempting to not move while driving should not be attempted with frozen feet